Blessings on St Patrick's Day
Tuesday, 17 March 2020
Blessings to you on the feast of St Patrick. It's an usual year for all with parades, gatherings and Masses cancelled. St Patrick was a man of deep faith and that faith was centred on the powerful protection of the Holy Trinity.
In this time of worry and social distancing, let us surround ourselves with Christ : beside, before, behind, above and below.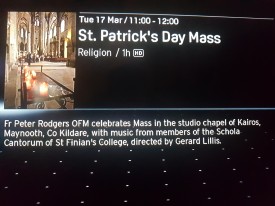 The 11am televised Mass on RTE will be celebrated by Fr Peter Rogers OFM Cap of the Capuchin Friary Church Street.
May the Lord bless and keep you always.