The Franciscan Image of God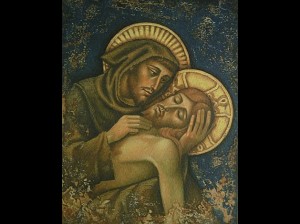 Franciscan Spirituality centres on the truth that God is Good and the source of all Goodness, in all things and at all times. This Goodness is made visible to us through all of Creation. The source of all Goodness is the Trinity, Father, Son and Holy Spirit, one God in a communion of Divine Persons, who brings into life and wholeness all that we exists. In Jesus Christ we encounter the Incarnate Goodness of the Trinity, the Word made Flesh who came to make a home with us. The Trinity is the source of and dwells within our very being and we are invited to be part of the life of the Trinity, a life of total self-emptying Love. It is this Love which creates all things and it is this Love that holds all things in being, without it we couldn't, and wouldn't, exist.
We encounter God in all of Creation because all of Creation acts as a mirror of God's Goodness. St Francis of Assisi deeply believed this and orientated his life around this belief. For St Francis not alone were other people his Brothers and Sisters, but so also was all of Creation. He encountered God as the Divine Artist whose brushstrokes could be seen all around us in the hills, mountains, birds, trees and in each other. Although God is encountered through all of Creation, human beings have a special role. Through our ability to orientate ourselves towards the things beyond us we can, if we choose to, more fully come to know and experience God. We are called to be stewards of all creation: to protect, nurture, cultivate and care for it just as God does. We are called to be Brothers and Sisters to all Creation, recognising God's Goodness in Brother Sun and Sister Moon. We are, most especially, called to be Brothers and Sisters to each other, recognising the other as part of the same family in Christ, as God's adopted children and as the unfinished masterpieces of the Divine artist.