Vocation Contacts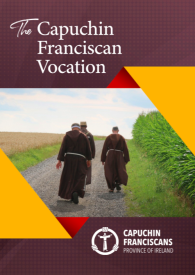 If you would like to know more about life as a Capuchin Friar, you are welcome to contact any of our Friaries. In addition to this, we have a dedicated Province wide vocations team, who would be delighted to hear from you:
Brother Antony Kurian OFM Cap.
Vocation Director 
Capuchin Friary, Church Street, Dublin 7
E-Mail: vocations@capuchins.ie
Phone: 083 158 7220
Brother Antony is supported in this ministry by the Provincial Vocations Commission:
---
Brother Bryan Shortall OFM Cap. 
Director of Padre Pio Apostolate in Ireland 
Irish Centre for Padre Pio,
Church Street,
Dublin 7.
---
Brother Martin Bennett OFM Cap.
Parish Priest & Director of Communications 
St Francis of Assisi Parish,
Clonshaugh Drive,
Priorswood,
Dublin 17
---
Brother Krzysztof Przbylski OFM Cap
Delegation of Great Britain
We also have  a team of Friars who minister as Local Vocation Contacts and represent each of our Friaries.
---
  In this video, our Brothers from the Western American Province, USA (founded by Irish Friars over a hundred years ago and featuring some of our Irish Missionaries), profiles some aspects of Capuchin life and ministry.
Vocations Contact Form
Thank you for your interest in the Capuchin Franciscan way of life. We'd appreciate if you could fill out this contact form so that we can best see how we can help you in your vocational discernment. Our Vocations Promoter, Brother Martin, will respond to all contacts.