Priorswood, Dublin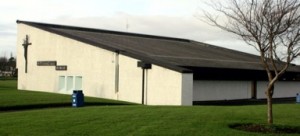 We Capuchins have been in Priorswood since the parish was established in 1974. In 1999 the parish celebrated its Silver Jubilee.
Mass Times:
Saturday: 10:00am & 6:00pm
Sunday: 9:30am & 11:30am
Monday – Friday: 10:00am
Sacrament of Reconciliation:
After Sat 6.00pm Vigil Mass or on request at Parish house.
Baptisms: Every 2nd, 3rd, & 4th Saturdays of each month at 12 noon. (No Exceptions)
Devotions:
Saint Padre Pio, OFM,Cap. – Every 3rd Wed of the month at 7.30pm.
Holy Hour – Every First Friday. 7.30pm – 8.30pm.
Divine Mercy Prayer Group meet every Mon. at 7.30pm.
Secular Franciscan Order, last Wed of every month at 8.00pm.
Legion of Mary meet every Wed at 8.00pm.
For more information of the Pairsh, including a 'virtual panoramic tour' please  Click Here
St Francis of Assisi Parish, Clonseaugh Drive, Priorswood, Dublin 17.
Phone: 01 847 4469 or 01 847 4358
[mappress mapid="3″ width="100%" height="400″ adaptive="true"]