St Francis College Students visit the Capuchin Day Centre
Friday, 10 February 2017
Brother Kevin Crowley (founder of the Capuchin Day Centre for Homeless People) was delighted to welcome fourth year students from St Francis College Rochestown to the Capuchin Day Centre. The students had prepared for the visit over a number of weeks by watching video clips, class discussions and project work that focused on the work of the Day Centre as well as the life and minister of the Capuchin Franciscans in Ireland.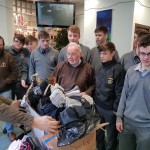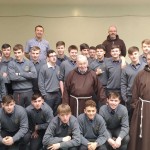 The school motto of St Francis College is 'Make the Difference' and this desire to make the difference inspired the students collect and present a large box of socks for the homeless people who come to the centre. Currently the Day Centre is providing almost 800 meals a day as well as showers, clothing and medical support.
A big thank you to all the students and teachers in Rochestown College and to Brother Kevin and the staff of the Capuchin Day Centre.