Visit of Belgian YouFra to Kilkenny and Dublin
Tuesday, 28 July 2015
We friars of the Irish Province recently welcomed a group of Young Franciscans (YouFra) who were on pilgrimage from Belgium.
YouFra are a Catholic youth organisation under the spiritual direction of the friars that invites young people learn about and experience the spirituality of St. Francis.
Led by Br. Kenny Brack, the Vicar of our Belgian Province, the group of 40 young people came to Ireland to explore its Franciscan History. Their visit began with Dublin, where they were looked after by the friars in Church St. while staying in the old church of St. Paul's in Arran Quay, (famous as the place of Baptism of the now Blessed Dom Columba Marmion), now a new centre of urban evangelisation.
While in Dublin they visited the Churches and sites of Christian heritage in the city and even made it as far as Glendalough. During the Kilkenny section of their trip they stayed in our Friary in Kilkenny, one of the oldest foundations of the Capuchins in Ireland. The friary and church as they exist now were designed and built by Belgian friars charged with the re-founding of the Irish Province after the persecutions of the Penal Times so we were delighted to offer our Belgain brothers and sisters the hospitality of the house… Photos of which follow!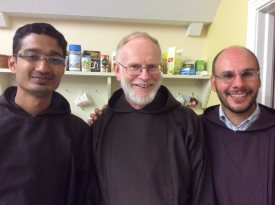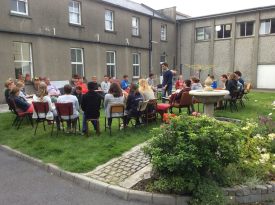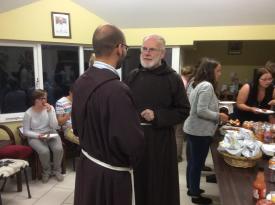 After Kilkenny the troop made their way to Galway to visit the OFM friars and the Poor Clare sisters on Nun's Island befor departing for Belgium once again. We all enjoyed their visit as a sign of the wonderfully diverse and joyful international family we belong to as brothers and sisters walking the Gospel way of St. Francis together,