Br James Ryan RIP
Tuesday, 08 September 2015
With sadness we regret to inform you that our brother, James Ryan has died; a Cork man born in Mitchelstown, he was in his 89th year.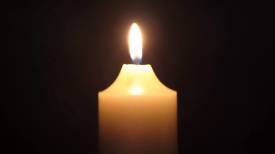 James joined the Capuchins in Rochestown, Co. Cork, on 31st October 1956.   He made first profession a year later and perpetual profession on 12th November 1960 in Ard Mhuire, Co. Donegal.   He was ordained priest by Bishop Farren of Derry on 28th May 1964, also in Ard Mhuire. Fifty-one years have passed since then and James' ministry to the people of God in Ireland has taken him to many of our friaries, sometimes more than once.   He ministered in Raheny, Ards and Blanchardstown.   He worked as curate in the parishes of Gurranabraher, Cork and Halston Street in Dublin.   He has been a member of the Ard Mhuire community for the last eight years.   We thank God for James and his witness to Christ as a Capuchin friar in Ireland over nearly sixty years.   May he enter into the joy of the Lord and receive his well-deserved reward.
Funeral arrangements are as follows:
Liturgical Reception in friary chapel, 7.00 p.m., Tuesday, 8th.
Requiem Mass, 12.00 noon, Wednesday, 9th and burial afterwards in friary
graveyard.
"These are the last words of David … the sweet psalmist of Israel – I will sing to the Lord all my life; I will sing praise to my God as long as I live."
                                                                                       2 Samuel 23:1; Psalm 104:33.