Ministers of Mercy. UCC Historical Conference on the Capuchins and Ireland's struggle for independence
Sunday, 11 June 2017
On Saturday 10th of June 2017 UCC History Department in conjunction with the Capuchin Friars in Rochestown and Douglas Parish Assembly hosted a very well attended historical conference on the Capuchins and Ireland's struggle for independence. Dr Gabriel Doherty (UCC History Department and one of the organisers) remarked on how the Capuchins had been present all all the major events from 1916 to 1922.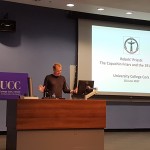 Dr Doherty was joined on the day by Dr Brian Kirby, Provincial Archivist for the Capuchin Franciscans who spoke of the Capuchin's role in the week of the Easter Rising as they ministered to the wounded and dying as well as to the 1916 leaders before their executions. Dr Gabriel Doherty presented a paper on 'Catholic ethics, the hunger strikes and the struggle for independence' highlighting the moral complexities and conundrums faced at the time. Ruth Sheehy from the Department of Art and Architecture in TCD gave an excellent and enlightening presentation on the illustrations of Irish artist Richard King in the Capuchin Annual pu
blication. The conference was concluded by Dr John Borgonovo from UCC's History Department who presented a fascinating paper on 'The exile, death and repatriat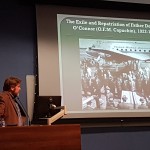 ion of Fr Dominic O'Connor'.
Those gathered then moved to the College Chapel in Rochestown where they were joined by the Friars and many locals for a commemorative Mass followed by a blessing of the graves in the Friars cemetery. The celebrant, Brother Martin Bennett OFM Cap., reminded all gathered that these men were first and foremost men of mercy called to respond to the emerging needs of their time just as Capuchins have done since their very foundation in the 1500's. Br Sylvester O'Flynn delivered an engaging homily focused on the call of the disciples and the search for justice and peace in the world. The church was filled with beautiful traditional irish music provided by members of Douglas Ceoltas. Many of those present remembered the repatriation of the remains of Brothers Albert Bibby and Dominic O'Connor in June 1958 and shared some great memories of the day including the story of one man who climbed a lime tree across from the Friary to play the Last Post on a tin whistle as the coffins were lowered into the ground.
Niall Murray wrote a fantastic article in advance of the conference in the Irish Examiner which can be accessed by clicking the following link.
http://www.irishexaminer.com/viewpoints/analysis/from-odonovan-rossa-funeral-to-the-civil-war-the-capuchin-order-made-their-faces-known-452002.html
On behalf of the Capuchin Friars, we would like to thank all those involved in such a memorable day.