Sunday Reflection – The Grace of Forgiveness
Saturday, 16 September 2023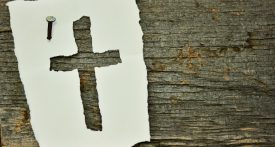 The Grace of Forgiveness
When somebody has suffered a big injustice or hurt, forgiveness is very difficult.  In fact, human nature on its own cannot find full forgiveness.  But with the help of the Holy Spirit a new way of looking at the injustice emerges.  Today's parable (Matt 18:21-35) is about a man who received the cancellation of a huge debt from his master, but he failed to pass on forgiveness to somebody who owed him a little sum.  True forgiveness begins in understanding God's idea of justice.   Human justice seeks a penalty to fit the crime.  It is about punishing, getting compensation, or seeking revenge.  Fortunately for us, God's idea of justice is not directed towards revenge or punishment.   God's justice seeks the healing of the person who did wrong.   Any punishment involved comes as a corrective measure to bring about the healing of the person.   Saint Paul summed it up beautifully.  "Since God loves you, you should be clothed in sincere compassion and understanding, in kindness and humility.   Bear with one another, forgive each other as soon as a quarrel begins.  The Lord has forgiven you; now you must do the same" (Col. 3:12-13).
Hand it over to the Holy Spirit
Human nature on its own cannot reach the full height of forgiveness.   The Catechism of the Catholic Church recommends handing over the problem of forgiveness to the Holy Spirit.  Quoting the Catechism: "It is not in our power not to feel or to forget an offence; but the heart that offers itself to the Holy Spirit turns injury into compassion and purifies the memory in transforming the hurt into intercession."  The Spirit comes like a helicopter to raise us up to where we can see with a much wider vision.  On the natural road of life, when we look back, we cannot see beyond the last corner.  When we look forward, we cannot see beyond the next corner.  The Holy Spirit lifts us up to where we can see the bigger picture.  We begin to understand where the person who wronged us has come from.  We see the moral sickness of the wrongdoer and develop compassion for this sick mind.  We then pray for the healing of that person's moral sickness.  The surest sign of authentic Christianity is the willingness to forgive.
"Resentment and anger, these are foul things, and both are found in the sinner" (First Reading).
"The Lord is compassion and love, slow to anger and rich in mercy.
It is he who forgives all your guilt, who heals every one of your ills,
who redeems your life from the grave, who crowns you with love and compassion" (Resp.Psalm).
(Extract from Silvester O'Flynn, Gospel Reflections and Prayers)