The Capuchin Day Centre prepares to distribute thousands of food parcels
Thursday, 20 December 2018
From early tomorrow morning the poor of Dublin will queue along Bow Street in whatever weather the Day may bring to collect one of 3,000 food parcels that will be distributed from the Capuchin Day Centre for Homeless People in Dublin.
Before they can be distributed the bags have to be packed and this evening an army of staff and volunteers come together to prepare these parcels. No mean feat. The 'bag packing' as it has become to be known is a joyful event in the life of the Day Centre and over the years celebrities and sports stars have turned up to lend a hand.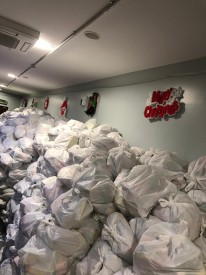 Behind the Christmas music and festive jumpers is the serious story of those who will receive the hampers tomorrow and those that come to the Day Centre for help day in and day out. If you would like to contribute to the work of the Centre please visit www.capuchindaycentre.ie for more information.
A big well done to all involved!